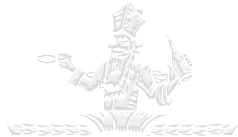 Saint-Vincent Tournante wine festival

The Saint-Vincent Tournante wine festival
From its creation and as it has grown in importance, the Confrérie has felt it to be its duty to foster innovations that would increase its notoriety and that of the Burgundy wine region by getting actively involved in the region's traditions and customs.
And so in 1938, the Saint Vincent Tournante was created, a wine festival celebrated each year in a different winegrowing village and a clear demonstration of the Confrérie des Chevaliers du Tastevin's commitment to defending with equal ardour all Burgundy's wines without exception.

Held annually on the last weekend of January, the event today attracts tens of thousands of visitors. But the religious service and sermon with its age-old verities, the cortege of Saint Vincent associations, the induction into the Confrérie of the village's oldest vignerons, the presence of the local bishop, and the coming together of everyone at this still point of the viticultural year - all these things bear witness to an underlying spiritual dimension, to an authentically popular tradition and a collective spirit deeply rooted in the soul.

The next edition of this celebration will be held in
Couchey Village.
For any further information, you can find all news on the official website :
https://svt2023.fr/
The Saint Vincent Tournantes from 1938 to the present

1st 1938 Chambolle-Musigny
2nd 1939 Vosne-Romanée
3rd 1947 Gevrey-Chambertin
4th 1948 Nuits-Saint-Georges
5th 1949 Meursault
6th 1950 Marsannay-la-Côte
7th 1951 Savigny-les-Beaune
8th 1952 Morey-Saint-Denis
9th 1953 Pommard
10th 1954 Chambolle-Musigny
11th 1955 Beaune
12th 1956 Flagey-Echezeaux, Gilly-les-Cîteaux et Vougeot
13rd 1957 VoInay
14th 1958 Fixin et Brochon
15th 1959 Aloxe-Corton et Pernand-Vergelesses
16th 1960 Gevrey-Chambertin
17th 1961 Puligny-Montrachet
18th 1962 Mercurey
19th 1963 Santenay
20th 1964 Saint-Romain
21th 1965 Chorey-les-Beaune
22nd 1966 Auxey-Duresses
23rd 1967 Nuits-Saint-Georges
24th 1968 Monthélie
25th 1969 Vosne-Romanée
26th 1970 Chassagne-Montrachet
27th 1971 Rully
28th 1972 Meursault
29th 1973 Morey-Saint-Denis
30th 1974 Beaune
31st 1975 Marsannay-la-Côte
32nd 1976 Chablis
33rd 1977 Hautes Côtes de Nuits
34th 1978 Savigny-les-Beaune
35th 1979 Chambolle-Musigny
36th 1980 Gevrey-Chambertin
37th 1981 Pommard
38th 1982 Couchey
39th 1983 Gilly-les-Cîteaux et Vougeot
40th 1984 Ladoix-Serrigny
41st 1985 Mercurey
42nd 1986 Volnay
43rd 1987 Nuits-Saint-Georges
44th 1988 Aloxe-Corton et Pernand-Vergelesses
45th 1989 Santenay
46th 1990 Hautes Côtes de Beaune
47th 1991 Puligny-Montrachet
48th 1992 Vosne-Romanée
49th 1993 Marsannay-la-Côte
50th 1994 Fixin
51st 1995 Chorey-les-Beaune
52nd 1996 Auxey-Duresses
53rd 1997 Les Maranges
54th 1998 Rully
55th 1999 Chablis
56th 2000 Gevrey-Chambertin
57th 2001 Meursault
58th 2002 Le Montagny
59th 2003 La Saint-Vincent Tournante de Bourgogne
60th 2004 Monthelie
61st 2005 Beaune
62nd 2006 Hautes Côtes de Nuits
63rd 2007 Nuits-Saint-Georges
64th 2008 Saint-Romain
65th 2009 Saint-Vincent Tournante des Mâcon
66th 2010 Chassagne-Montrachet
67th 2011 Saint-Vincent Tournante des Cotes de Nuits Villages à Corgoloin
68th 2012 Les Climats de Bourgogne à Dijon, Nuits-Saint-Georges et Beaune
69th 2013 Les Crémants de Bourgogne à Châtillon sur Seine
70th 2014 Saint Aubin
71st 2015 Gilly-Lès-Cîteaux et Vougeot
72nd 2016 Irancy
73rd 2017 Mercurey
74th 2018 Saint-Véran
75th 2019 Vézelay
76th 2020 Gevrey-Chambertin
77th 2021 -
78th 2022 Puligny-Montrachet, Blagny & Corpeau
79th 2023 Couchey