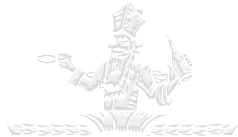 The story

Since 1934, the Confrérie des Chevaliers du Tastevin has set itself the mission of promoting all things Burgundian, in particular its great wines and traditional cuisine but also the survival -and revival - of the region's feasts, festivals, customs and folklore as well as the development of tourism in Burgundy.
With 12,000 Chevaliers around the world, the Confrérie is committed to defending the reputation of Burgundy - and burgundy - in a spirit of Grand Cru conviviality. A key player in all the region's important events, the Confrérie was instrumental in creating the Saint Vincent Tournante travelling wine festival, the Tastevinage and the restoration of the Château du Clos de Vougeot.
Despite some great vintages (1929, 1933, 1934) Burgundy went through a grave economic crisis in the early 1930s. The wine stayed in the cellars for want of buyers. In the midst of this darkness, the Confrérie des Chevaliers du Tastevin appeared like a shaft of sunlight. Its birth was officially signed and registered on November 16th 1934 in the Caveau Nuiton, Nuits-Saint-Georges.


The Resurrection of the ancient Bacchic Confraternities
In fact, the Tastevin began as an attempt to revive the Bacchic drinking fraternities of the 17th and 18th centuries, long since fallen into oblivion. This revival was motivated by an economic necessity, namely the collapse in sales of burgundy in the wake of the world financial crisis.
While lesser mortals gave in to the fear and apathy generated by the economic slump, two dynamic Burgundians from Nuits-Saint-Georges, George Faiveley and Camille Rodier, came together for some bold thinking in the apt setting of a wine cellar.
Rabelais and Molière
A lengthy meeting was held at the end of which a solemn vow was taken by all present to defend the reputation of "France's great wines in general and those of Burgundy in particular".
The terms in which this resolution was expressed were roughly these: "Wines of a quality such as ours are a cause for joy and optimism. So enough moaning! Since our cellars are full to the brim, let's empty them - and we can invite our friends to help us! We'll revive the old Bacchic confraternities and ward off ill fortune with liberal doses of Rabelaisian exuberance and Molière's comic good-sense".
In 1939 an apocalyptic wind spread over the world. With the outbreak of war the Confrérie des Chevaliers du Tastevin withdrew into silence. But its spirit remained intact and, at the Liberation of France five years later, it reemerged more vibrant than ever from the cellar where it had been patiently guarding its griefs and hopes.
Its first act was to acquire the Château du Clos de Vougeot, establishing in so doing a prestigious presence in Burgundy's vineyards. An ancient Cistercian sanctum and veritable Acropolis at the center of viticultural Burgundy, the Château would become the headquarters of the Confrérie.