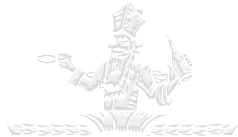 The Chapters
"Only he is good who seeks to be better"
Since 1934, the Confrérie des Chevaliers du Tastevin has been celebrating Burgundy, with its gastronomy and its great wines, at the Château du Clos de Vougeot, in a spirit of hospitality, generosity and human warmth. It has given to France its finest "table d'hôtes".


Thousands of people from everywhere in the world and from all walks of life have participated in the famous Chapitres at the Château du Clos de Vougeot, and discovered beneath the good humour of Burgundy, the deep meaning of the ceremonies whose aims are still the same: to make Burgundy - both the region and its wine - more widely known under the auspices of cheerfulness and optimism.

Every season, numerous Chapitres are celebrated there: Spring, Summer, Autumn ... the Equinox, The Roses, Saint-Vincent, Saint-Hubert... These Chapitres enable the Confrérie to welcome the most illustrious guests as well as the Chevaliers du Tastevin with close ties to the soul of Burgundy.